E‑commerce Creates Global Trade Route
By Carl Rhyndress
Whether it's in favourite pyjamas on a lazy morning or late at night long after stores have closed their doors, it has never been easier for consumers to purchase goods online using their computers, phones, or tablets.
E‑commerce is proving to be a growing part of the world economy, showing no signs of slowing down. As a result, opportunities for Canadian companies to reach new customers around the world are ever‑increasing.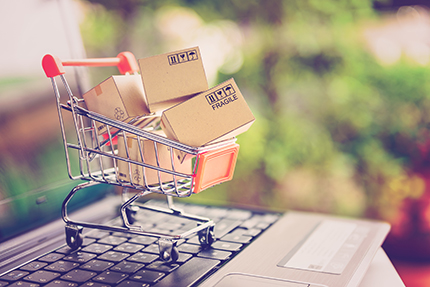 Global Affairs Canada (GAC), the federal department overseeing international trade, has taken note. GAC is developing a strategy to assist Canadian companies across all industry sectors that are doing business online. GAC's Canadian Trade Commissioner Service (TCS) is putting in place tools to ensure Canadian companies are informed and well‑equipped to navigate the lucrative but potentially complex world of e-commerce.
Social media and online marketing propelled the e‑commerce boom, says Neil Swain, a trade commissioner heading the TCS multi‑sector e‑commerce group. Greater internet traffic has led to an increasing number of people purchasing goods and services online. As e‑commerce evolved in recent years, trade promotion agencies have had to update their services accordingly, says Swain.
"With the growth in key online marketplace platforms like Amazon, eBay, Alibaba Group Holding Inc., and JD.com, we're seeing new international e‑exporting opportunities for Canadian companies," he says. In keeping with this trend, the TCS created its multi‑sector e‑commerce group last year to help businesses further take advantage of this means of reaching global customers.
"I think one of the catalysts for starting this group was Prime Minister Justin Trudeau's visit to China in 2016, where he met with Alibaba CEO Jack Ma," says Swain. "It brought the idea of placing more focus on e‑commerce on the radars of many senior government officials, who saw the potential with JD.com and Tmall in China and realized there are great opportunities in e‑commerce around the world and we need a strategic approach to get in the right markets."
Trudeau was a featured speaker at Gateway '17, a business conference hosted by Alibaba in Toronto September 25, 2017. The prime minister encouraged Canada's small and medium‑sized enterprises (SMEs) to explore opportunities in the Chinese market where there are more than one billion consumers.
Currently the largest e-commerce based exports—or e‑exports—for Canada are agriculture and processed foods, and consumer goods such as apparel and footwear.
E-commerce is the act of buying or selling goods or services over the internet. It is not a separate business category or industry sector, but rather e‑commerce spans most types of business, hence the TCS' multi‑sector group. Conventionally, goods and services fall under one or more industry sectors, such as agriculture, automotive, and clean technologies. This is still the case even when goods or services are sold online exclusively, says Swain. E‑commerce is rather another tool for companies within their suite of tools to help them export abroad—another path to global markets, explains Swain.
The TCS is aware that more of its Canadian business clients are starting home‑based companies, skipping traditional steps in selling products, by‑passing the "brick and mortar" model and diving straight into online sales, Swain says.
"Young, dynamic, smart people are starting businesses online and we need to tap into that to be able to help them and provide added‑value, that's the challenge," he says.
There are key considerations when it comes to online sales that companies may not think about or fully be aware of such as having an effective return policy in place, Swain says. Other considerations include proper labelling on products being sent and returned so they do not get hung up in customs, and an efficient financial technology (fin‑tech) platform to process payments and manage currency fluctuations.
"Fin‑tech platforms are crucial for companies from the onset. They need to have the right fin‑tech platform, one that's solid and they've tested, because their clients will be very fickle, as soon as something doesn't work they'll go to the next company," says Swain.
Another e‑commerce consideration about which the TCS is working to inform the Canadian business community is cybersecurity. The recently reported hacks on companies including Equifax, Deloitte and Uber have proven that even large companies' data and websites are susceptible.
"The way cyber specialists say it is that there are two kinds of companies: those who have been hacked and those that don't know they've been hacked yet. Most companies don't realize how vulnerable they are," says Swain. "Trade commissioners have to underscore the need to invest in rock‑solid security now because it will cost so much more if you get hacked."
For the TCS, the next step is to identify any gaps in the support it provides to its Canadian business clients, says Swain. "We have to remain relevant and useful to the clients and that means understanding e‑commerce and seeing where we can help them."
The TCS will make several e‑commerce‑related products and tools available for Canadian companies over the next few months, Swain says, adding that the tools are designed to "help them improve and expand their online operations."
The TCS tools will include in‑depth guides on doing business in China and on doing business in the United States, as well as webinars offering insights on various e‑commerce‑related topics such as fin‑tech platforms.
The TCS e‑commerce group is putting in place a "push and pull" strategy designed to both assist Canadian companies and attract new businesses selling online to become TCS clients. The Alibaba Gateway event in Toronto is one example of where the TCS e‑commerce group was present to network with Canadian companies and entrepreneurs.
The TCS is also working with internal partners such as Canada Post, Export Development Canada (EDC), and Business Development Canada (BDC) to promote TCS services to their respective networks, says Swain. He adds that privacy considerations for the clients of all partners remain of the utmost importance throughout the process.
"E‑commerce is going to give entrepreneurs more opportunities, it gives them another way to accelerate into markets, but it's not going to be easier, it's going to be more complex and certainly harder," says Swain. "Exporting online will still take a lot of work and due diligence, and that's where the trade commissioners come in. We will ask the same questions we always do in helping our clients, plus a little more about e‑commerce for those companies that are selling online."
Trade commissioners located in the TCS regional offices have been the first to receive training on the types of questions to ask regarding considerations specific to e‑commerce. Regional offices are located in major cities around Canada. They are responsible for helping to assess the export potential and readiness of Canadian businesses.
One primary piece of TCS advice that remains unchanged when dealing with companies selling online is that expansion into new markets should be done only after a good strategy is in place and all potential risks have been considered.
"Our fear is that a lot of companies will see e‑commerce as a 'panacea' that will help them market to the world instantly," says Swain, adding the reality is that Canadian companies still have to be prepared, even online.
Companies also need to be aware of potential copyright and intellectual property infringements their products may incur in other countries. Businesses can use internet protocol (IP) addresses—the means of identifying a consumer's location based on the location of their internet connected device—to restrict who can buy their goods. Selecting the right international markets to target is a key element of e‑commerce success, Swain says.
"Our research has shown that the U.S. is the best place to start, it's the largest market for Canada with the best developed infrastructure and lowest risks in terms of cost and ease of doing business. "Depending on the nature of their products, companies should consider first becoming comfortable with exporting nearby—in the U.S.—first before selling to say Europe, the Middle East and Asia," says Swain.
"It's hard to collect data on e‑commerce trade. We don't know everyone that's selling online and some people don't know that what they're doing is considered e‑commerce. If you switch from a fax‑based ordering system to an online ordering system, for example, then that is e‑commerce," adds Swain.
The European Union, which has sophisticated e‑commerce markets in places such as France and Germany, is now an even more attractive destination for Canadian companies with the Canada‑European Union Comprehensive Economic and Trade Agreement (CETA) now in effect. "Certainly on things like consumer products, such as clothing and apparel, where tariffs are going down to zero, I think it's going to make a big difference and I think if we could start shipping online there more it would be great," Swain says.
He notes that the large Asian markets bolster great potential, but they're also intricate and complex. "If you're successful in markets like China, that's when you'll face your biggest challenges. Not every company can ramp‑up their operations that fast to meet demand."
The global e‑commerce marketplace is a great place for Canadian companies to be these days, says Swain, however "it's best to take it one country at a time and have a plan to get there, that's where the TCS can help."
Subscribe to: E-magazine and RSS Feed

Use #CanadExport
Date Modified: