Canada repeals facilitation payments exception
It is now illegal for Canadians to make what's known as facilitation payments to foreign public officials in other countries to expedite bureaucratic processes to obtain necessary permits and other services.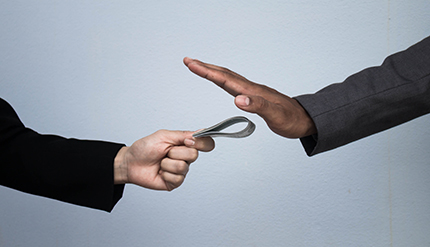 Enacted in 1999, Canada's Corruption of Foreign Public Act makes it illegal to bribe foreign public officials—both in Canada and in other countries. However, facilitation payments made to expedite what could otherwise be slow bureaucratic processes which could hinder business or other endeavours, were an exception. On October 31, 2017, Canada repealed the exception made for facilitation payments under the Act. Like other forms of bribery, facilitation payments are now illegal.
Facilitation payments are a concept known in Italian as spintarella, or "pulling strings." In the Middle East, they are baksheesh. In Greek, they're fakelaki, or a "little envelope." In Kiswahili, kitu kidogo refers to this concept as "something small." In Latin America, it's a request for algo para el refresco, "something for a beverage" and in Chinese, they're chaqian, which means "tea money."
Canadians who have conducted business or lived in a country where corruption is common have likely had to deal with government employees expecting handouts. Facilitation payments, sometimes known as "grease payments," are small payments made to government officials to get them to perform routine tasks within the scope of their duties. Paying money "under the table" to expedite processes for things such as obtaining a driver's licence or a work permit for an employee, for example, is common in some countries.
"Some companies justify paying kitu kidogo because they know that their competitors are doing it, and by declining to pay, they are putting themselves at a disadvantage," says Ryan Ward, a trade commissioner with the Canadian Trade Commissioner Service (TCS) in Nairobi, Kenya.
In 2009, the Organisation for Economic Co-operation and Development (OECD) recommended that member countries criminalize facilitation payments and strongly discouraged the use of facilitation on the basis that such payments have a corrosive effect on the rule of law, and hinder sustainable economic growth, says Daniel Whalen, a lawyer with Global Affairs Canada (GAC)'s criminal, security and diplomatic law division.
"Canada delayed the implementation of this change in order to give companies time to adjust their internal practices and procedures," Whalen says, adding the exception was slated for removal at a future date (to be set by an Order in Council) by An Act to amend the Corruption of Foreign Public Officials Act (Fighting Foreign Corruption Act) in 2013. "This change to Canadian law highlights Canada's commitment to combating corruption and bribery."
With this change in the law, Canadian companies doing business abroad should ensure all of their employees and representatives are fully aware that even small facilitation payments are illegal and could lead to criminal charges in Canada. Preparing staff for the challenge of corruption can help ensure a company's survival, says Brooke Grantham, a trade commissioner based with GAC in Ottawa.
"Companies hit by corruption scandals end up with sullied reputations and lose future business opportunities," Grantham says. "They can then spend millions to clean up the mess and try to fix their reputations."
From his vantage point in East Africa, Ward sees a refusal to pay as being a competitive advantage for Canada in the region. "We are known for our honest and clean approach, standing in contrast to those who will go to any length to win a contract," he says. "Many countries are aggressively working to rein-in corrupt practices, and Canada is an increasingly sought-after partner in this pursuit."
Experts recommend companies establish an anti-corruption compliance program which should include clear policies and procedures to prevent corruption as well as comprehensive training for management and staff, Grantham says.
For more information on the Corruption of Foreign Public Officials Act and for resources for businesses see the links below:
Government of Canada news release on repeal of facilitation payments exception
The Corruption of Foreign Public Officials Act (S.C. 1998, c. 34)
Transparency International (TI) is a non-government organization that works to combat corruption around the world:
Global Compact Network Canada (Canadian Chapter of the United Nations Global Compact):
RCMP:
Subscribe to: E-magazine and RSS Feed

Use #CanadExport
Date Modified: