Doing Business in Europe
CETA: Canada and the European Union Usher In a New Era of Trade
The Canada-European Union (EU) Comprehensive Economic and Trade Agreement (CETA) was implemented September 21, bringing tangible and significant benefits for Canadian companies that include unprecedented duty-free access to a market of some 500 million consumers and GDP of more than $22 trillion.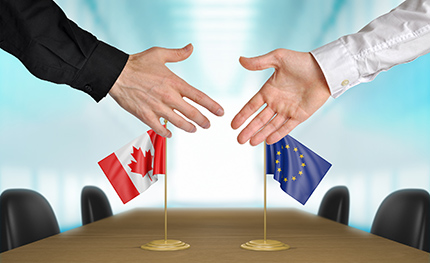 The agreement, which covers virtually all sectors and aspects of Canada-EU trade, promises to strengthen economic relations and promote new opportunities for Canadian and European businesses, says Caroline Charette, director of the CETA Secretariat within the Trade Policy Branch of Global Affairs Canada (GAC).
"CETA is a major landmark in the establishment of Canada's progressive trade agenda," she says, commenting that not only will the agreement improve trade between the EU and Canada, but it also includes high standards for consumers, workers and the environment in virtually all aspects of modern commerce. "Everything from trade in goods and services, business mobility and investment to government procurement and technical barriers to trade is addressed."
Prior to heading the CETA Secretariat Charette served with GAC's Canadian Trade Commissioner Service (TCS), most recently in Paris, helping Canadian companies succeed abroad and supporting them in their efforts. She notes that with the provisional application of CETA, 98 percent of EU tariff lines are now duty-free for Canadian goods.
All of the economically significant benefits of the agreement will also be implemented, including services commitments, temporary-entry commitments and government procurement obligations.
The EU is the second-largest export market for Canada, right behind the United States, with more than $94 billion in bilateral trade in goods and nearly $42 billion in two-way trade in services last year, Charette points out. With CETA in effect, Canada will be one of only a handful of countries with guaranteed preferential access to both the EU and the U.S., which together account for nearly half of the world's economic output.
"All sectors of the Canadian economy will benefit from this forward-looking and ambitious deal we have carefully designed with our European partners," she says, noting that before CETA's provisional implementation only 25 percent of EU tariff lines on Canadian goods were duty-free. Tariff elimination will provide enhanced export opportunities into the EU market for Canadian producers, processors and manufacturers, as well as for agricultural and agri-food products, fish and seafood, forestry products and a full range of industrial goods.
Some EU tariffs on fish and seafood as well as many agricultural goods were up to 20 percent in some cases, making it unprofitable for Canadian businesses to export these products. "That's going to change with the tariff elimination under CETA," she notes. "Even the end of relatively low tariffs could make certain Canadian exports more competitive relative to competitor products, and open up new export opportunities in the EU."
Stewart Lamont, managing director of the Tangier Lobster Company on the eastern shore of Nova Scotia, which sells quality hard-shell Canadian lobsters to importers, wholesalers and distributors in 21 countries around the world, eight of them in Europe, says that CETA brings "tremendous potential," especially with the immediate elimination of the eight percent duty on lobsters levied by the EU.
"We are now in the front row to build some new business," he says, while the agreement will help the company "reset" relationships with existing customers and revisit some previous European clients in markets where it has not been as competitive. "We see CETA as a chance to focus on some opportunities that we have not considered for a while," Lamont says.
"The Government of Canada has negotiated a favourable trade agreement on behalf of Canadian exporters, and shame on us if we don't take advantage of it," he comments, noting that the agreement is a sharp contrast to "protectionist mode" in which some competitors in other countries increasingly operate.
"We are extreme believers in the benefits of international trade," Lamont remarks. "The fact that at the highest government levels they are encouraging us to do business free of tariffs makes a timely statement."
Charette notes that the agreement also establishes some mechanisms to ensure enhanced cooperation toward addressing technical barriers to trade, including product standards and regulations that make it more difficult for products to enter a market. "CETA provides ways to address and prevent problems in this area, including a chapter on regulatory cooperation and a protocol on conformity assessment."
For example, the provisions of the protocol on conformity assessment are expected to help reduce costs and marketing delays for Canadian exporters, over time.
Among the benefits of the agreement beyond tariff elimination, she says, CETA makes it easier for highly skilled professionals and businesspeople—to conduct business or work temporarily in the EU.
CETA's temporary-entry provisions expand on existing World Trade Organization (WTO) access, by setting a framework to facilitate temporary travel or relocation for selected categories of business persons, including short-term business visitors, investors, intra-company transferees, professionals and technologists.
"As a result of CETA, Canadian firms and independent professionals have greater certainty when establishing branches in the EU, bidding on EU service contracts and providing installation and maintenance services for goods sold in the EU market," Charette says.
Mario Rousseau, president of Intellinox Technologies, a company in Quebec City that provides energy-saving solutions for commercial kitchens, looks forward to the opportunities presented by CETA, including the fact that it will immediately eliminate tariffs on Intellinox's Canadian products such as its variable ventilation control systems, which currently face EU tariffs of up to 2.8 percent.
"It's always good to have lower tariffs, or none at all; it helps, that's for sure," Rousseau says, noting that Canadian companies are known for being open, innovative and responsive in the growing EU market, with a reputation for listening to customers' needs. "We have a warm welcome with people in Europe. They say, 'Yes, we want to do business with you.'"
For Développement Effenco, a Montreal company that makes systems that reduce fuel costs and greenhouse gas emissions on heavy-duty vocational vehicles, for example on garbage trucks and construction equipment, the elimination of the 2.5 percent EU tariff on its products "is very good news," says Dany Fouquet, the firm's vice-president of operations. "We've been waiting for a long time to see this in place."
Beyond the tariff measures, the agreement will guarantee access for Effenco to provide engineering and related technical consulting services in the EU. CETA will make it easier for Effenco to send its employees to conduct business and work temporarily in the EU, for example to negotiate sales, attend consultations, participate in trade fairs and provide engineering services. Effenco will also benefit from more transparent access and flexibility for its intra-corporate transferees, and, above certain thresholds, it will be able to access procurement opportunities at all levels of EU government, including by public utilities and thousands of municipal and regional government entities.
Fouquet says that Effenco hopes to have half of its sales in Europe, through strategies that include partnering directly with original equipment manufacturers such as major trucking and machinery companies, given growing concerns in the EU about the environment and support for green technologies there.
"A lot of cities in Europe are searching for solutions; it's good timing," he comments. CETA also provides a secure and predictable environment for any investment the company may make in Europe, such as the fact that it intends to establish a subsidiary there.
Charette notes that the agreement provides Canadian companies with a "first-mover advantage" over competitors from markets like the U.S. that do not have a trade agreement in place with the EU. "It allows Canada to establish customer relationships, networks and joint projects first."
She points out that the EU has more Fortune 500 companies than anywhere else in the world, including the U.S., and therefore CETA can be a springboard for other markets beyond the EU, offering Canadian businesses an opportunity to be part of broader global supply chains.
"Preferential access to the second-largest market in the world offers real opportunity for diversification from and over-reliance on the U.S. market, and allows Canada to take real steps outside of North America," Charette adds.
Lamont says that relationships between Canadians and Europeans tend to be more intense and long-lasting, with fewer cultural and language differences than with other foreign markets. Europe is also closer to Canada than some of Tangier Lobster's customers in places such as Asia, which means lower-cost freight arrangements, and EU buyers are "extremely familiar with Canada generally," he comments. "Our company has a good reputation in Europe."
The TCS offers "great referrals" to Canadian companies such as his in Europe and "we should be able to leverage the CETA provisions," he adds. "The agreement gives us a platform on which we can actually expand and diversify our business going forward."
For more info on CETA visit Global Affairs Canada's dedicated CETA website. For information on tariffs consult the Canada Tariff Finder, a free online tool.
Subscribe to: E-magazine and RSS Feed

Use #CanadExport
Date Modified: