Canada-Austria Projects Top Program List
Infectious diseases such as the Zika virus, wheat seeds and wheelchair accessibility are diverse topics for research, but they have at least one thing in common: Canada's expertise in these areas have drawn interest from Austria.
The Beyond Europe research program encourages Austrian companies and institutions to collaborate with foreign counterparts. Launched by the Austrian Research Promotion Agency in December 2015, the program has brought the highest number of partnerships with Canadian researchers than with any other country. The program fosters joint science, technology and innovation projects between companies and institutions in Austria and partners outside of Europe. Up to 20 percent of funding provided under the program can be used by these collaboration partners.
In the first call for Beyond Europe applications Canada was the most successful partner country with three out of 14 approved projects involving a Canadian collaborator. The Canadian companies are Cyclenium Pharma Inc. of Sherbrooke, Que., which researches compounds to target dengue fever and the Zika virus; C&M Seeds Inc. of Palmerston, Ont., which is helping to develop better wheat seeds for cold climates; and Real-Time Engineering & Simulation Inc. of Kanata, Ont., which is working on a wheelchair lift system for North American railcars.
C&M Seeds, a family-run business that produces and distributes crop seeds, with a primary focus on wheat, is working with Saatzucht Donau GesmbH, an Austrian breeder of seeds for wheat and other cereals, on a joint research project to develop wheat that can be adapted to cold climate conditions in Canada and other northern countries.
Ellen Sparry, a crop scientist and general manager of C&M Seeds, a company north of Guelph, Ont. with 15 employees, says the goal of the project is to test and bring new heartier varietals of crop seeds through to commercialization.

Ellen Sparry
(Photo: C&M Seeds)
Beyond Europe "is a great program" for encouraging Canada-Austria collaboration involving even small companies like hers. "It's interesting work, interacting with people in other countries. You learn about some different cultures and it opens your mind up, she says."
"It's a global market," adds Sparry, explaining that international collaboration brings new ideas, different research conditions and fresh approaches to enhance yield, combat disease, increase winter survival and improve crop quality. "We're always moving the bar up; sort of like the Olympics, you're always trying to beat the world record and always looking for that next thing."
The research is especially focused on growing winter wheat, typically found in milder places such as Ontario. Winter wheat is comparable to Western spring-planted wheat in terms of bread-making qualities, Sparry says. "It's all about introducing new genes and bringing in some different varieties."
Dr. Helmut Thomas, the president, CEO and chief scientific officer of Cyclenium Pharma, says that its collaboration with Haplogen GmbH in Austria stemmed from a pharmaceutical partnering conference he attended in Frankfurt in 2014. He met Haplogen's CEO, Dr. Georg Casari, there and heard that the company was looking for new compounds for anti-viral drug discovery.
Thomas, a biochemist, organic chemist and toxicologist, says his five-person Sherbrooke, Que., company specializes in unique small-molecule macrocycle technology for difficult targets that are inaccessible by traditional small-molecule chemistry and biological drugs. The targets that Haplogen are working on particularly involve flaviviruses, which include dengue fever, West Nile virus, Japanese encephalitis and the Zika virus.
Haplogen expressed an interest in using Cyclenium's "screening library" of medicinal chemistry compounds that could be active against such viral targets, blocking their replication. An agreement between the two companies was established and they began to exchange information to optimize the compounds, culminating in the current partnership under the Beyond Europe program.
"They were excited and so were we. It was just basically a home run," says Thomas, noting that the relationship "is very smooth and homogeneous. It's a fantastic thing."
Casari, co-founder of Haplogen, says the collaboration combines "complimentary expertise," with Cyclenium producing the compounds and Haplogen testing to see if they help. "It's a demanding process," he says, with tight time-lines. "Neither of us has a foot on the brake. We are both on the accelerator."
Canadian research is highly regarded in the field, Casari says. "I see Canada as very efficient and competent and innovative." He hopes the project will move from discovery to the drug development stage and eventually culminate in clinical testing, a process that requires significant funding and is bolstered by international collaboration. "For us this is a competitive advantage."
Austria's support of the Haplogen-Cyclenium collaboration is critical, Thomas adds. "It's bringing together international expertise to solve problems that are a threat to humankind as a whole."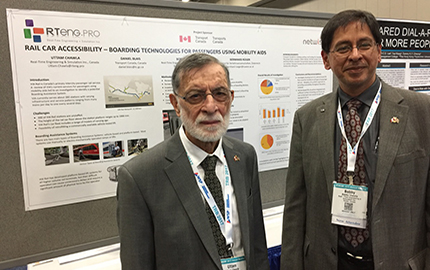 Uttam Chawla (left) and Bobby Chawla
Bobby Chawla, founder and principal consultant of Real-Time Engineering & Simulation Inc., which is known as RTeng.Pro and has six employees, says the company's joint research with Netwiss OG and four other Austrian partners could lead to a wheelchair lift system that can be installed in trains in North America. His father Uttam Chawla, a mechanical engineer who is a senior consultant with the company, used to work for Bombardier and got involved in the issue of railcar accessibility with Netwiss as part of a consulting contract that RTeng.Pro had with Transport Canada.
This new project under the Beyond Europe program is focusing on adapting the lift technology now in use in Europe—which is much more advanced in railcar accessibility and boarding assistance systems—for passenger trains in Canada and the U.S., Chawla says.
RTeng.Pro is engaging other Canadian entities in its research including Transport Canada, Bombardier, Via Rail and organizations representing people with disabilities. It is looking at the needs of users as well as the requirements of railway operators, for example.
There are "definitely advantages" to international collaboration in research, Chawla adds. "These days you can find people who have better knowledge, experience and expertise in your field in any country," he says. "The world is small, and you can work with companies that are the technology leaders."
Chawla says the Canadian Trade Commissioner Service (TCS) was helpful with "various aspects" of the collaboration with the Austrian partners. For example Susanne Knobloch, a trade commissioner in Austria, endorsed the company in a letter of support, offered advice on legal and tax issues, as well as helping the company to avoid obstacles. "You need to be able to ask all kinds of questions and get useful answers," he says. "The TCS was there in both Canada and Austria to help us get things done. We're quite pleased at how simple it all was."
The TCS provided assistance and introductions to key contacts for Canadian companies involved in Beyond Europe project applications, says Knobloch, who covers science and technology, green technology and the automotive industry.
The three companies selected for the program are good examples of small and medium-sized enterprises (SMEs) that are very innovative, says Knobloch, She notes that the TCS helps such companies "link to global innovation opportunities and tap into foreign funding resources."
Knobloch says Austria is one of Europe's leading science and technology countries. It has progressively increased its research and development (R&D) intensity, which amounted to 3.07 percent of the gross domestic product (GDP) in 2015, the second-highest level in the European Union after Sweden. She says Austria's goal is to increase R&D spending to 3.76 percent of GDP by 2020, which is one percent higher than the current European average. Indeed, the target for the entire EU is three percent of the GDP.
Beyond Europe is a major part of Austria's strategy, with a goal of commercializing the research results, Knobloch says. The second call for Beyond Europe participants recently closed, while a third call is expected to be introduced toward the end of 2017.
"As innovation is becoming increasingly important for international competitiveness, international partnerships are essential," Knobloch says. In line with both Canada's and Austria's innovation strategies, the program's areas of focus are ICT (including automotive electronics, connected and automated driving solutions) sustainable energy and smart energy systems, as well as life sciences and agriculture.
"Increased research collaboration in these areas will benefit the Canadian economy and support Canada's ambition to become a leader in innovation," she comments. The three Canadian participants in the program "are great examples of the diverse excellence of SMEs in various sectors committed to global market expansion."
Knobloch is in regular contact with the Austrian Research Promotion Agency and was able to provide helpful information on the opportunity to potential partners from Canada and Austria. The TCS in Vienna leverages strategic partnerships, such as with the National Research Council's Industrial Research Assistance Program (IRAP), which is "very beneficial for our clients," she says.
It can be challenging for Canadian companies to find partners that share their objectives, Knobloch notes, adding: "the TCS has a broad network of contacts and can assist through all steps in this process."
Subscribe to: E-magazine and RSS Feed

Use #CanadExport
Date Modified: