Helping Businesswomen Find Global Footing
By Robyn Finlay
Women looking to expand their businesses globally are turning their eyes to those best-placed to understand their needs: other women.
The Canadian Trade Commissioner Service's Business Women in International Trade (BWIT) program is working closely with the Women's Enterprise Organizations of Canada (WEOC) member organizations to help women succeed.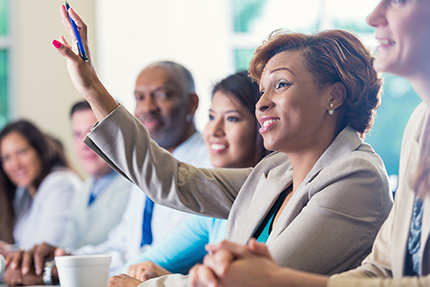 WEOC's member organizations support women's entrepreneurship by working with start-ups and growing businesses to help them explore global opportunities. The group of non-profit organizations located in offices across Canada provide mentoring and advisory services, financial assistance and more to women entrepreneurs.
"The purpose of our organizations is to share practices, standards and disseminate information," says Sandra Altner, CEO of the Women's Enterprise Centre of Manitoba and chair of the WEOC board of directors. Women still face "major barriers in the area of financing and access to markets," making their members' support services vital to business start-up and expansion.
"The Women's Enterprise Initiative in Western Canada is comprised of regional organizations that serve women business owners. We felt that there were many organizations like ours across the country that were seeking to help women entrepreneurs that could benefit from some of the information we had and the knowledge we had garnered," says Altner. The umbrella group's web grew quickly and now includes 24 member entities with access to more than 75,000 female business owners across Canada.
Josie Mousseau, who heads the Canadian Trade Commissioner Service's BWIT program, reached out to the organizations under WEOC. "I knew we needed some eyes, ears and access into the regions of Canada to access business women." The goal is to share resources and networks to help women entrepreneurs achieve success, says Mousseau, adding it made sense to work with a group of organizations enabling the successful start-up and expansion of women-owned businesses.
Despite a growth in the number of women-owned businesses in Canada, there is a point at which that growth hits a wall, says Altner. This is where services provided by WEOC members are most useful. Business owners often think "they are going to hit it big right away" at trade missions, but the work that comes after—following up and developing opportunities—are equally important, she says.
WEOC member organizations, along with help from the BWIT team, provide the advice, skills and information needed to build the capacity and competencies to reach larger markets. Altner says that WEOC and BWIT collaborate on several key initiatives, including trade missions. They organized a joint trade mission to Orlando, Fla. in June 2016, which provided businesswomen with opportunities to meet with potential buyers and to network with clients and each other to promote their products and services.
Altner encourages women to access the services of women's business support organizations and use them to take advantage of business opportunities. "I think all doors can open. All options are possible."
Mousseau says that access to key contacts and opportunities are important to success. By working with BWIT, which is part of the Canadian Trade Commissioner Service (TCS), WEOC member organizations are also tapping into a network of market experts in more than 160 cities in Canada and worldwide.
For BWIT, working with WEOC has extended its network, increasing opportunities to collaborate and share information and resources. Mousseau notes that a larger network has helped BWIT to "catapult more women entrepreneurs to the next step" and take their businesses to international markets.
Subscribe to: E-magazine and RSS Feed

Use #CanadExport
Date Modified: