CETA: An important addition to Canada's free trade agreements
Free trade agreements (FTAs) cover an overwhelmingly large and growing share of Canadian exports. In 2015, 80 percent of Canadian merchandise exports were destined to countries with which Canada currently has an FTA in effect.
The addition of the 28 European countries covered in the Canada-European Union Comprehensive Economic and Trade Agreement (CETA) will push Canadian merchandise exports covered by FTAs up to 87.2 percent (based on 2015 exports). Implementation of the Trans-Pacific Partnership (TPP) would further expand coverage to 90.1 percent.
Canadian Merchandise Exports, 2015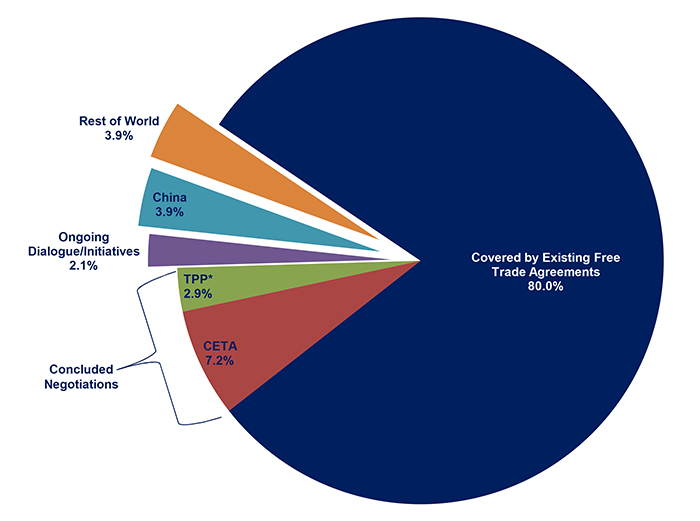 * Excluding existing FTA partners
Data: Statistics Canada
Source: Office of the Chief Economist, Global Affairs Canada
Canada is also engaged in ongoing dialogues with a variety of other economies (e.g. India), which would add an additional 2.1 percent to Canada's FTA coverage. With the recent announcement of exploratory talks on free trade between China and Canada, another 3.9 percent of Canadian exports have the potential for free trade coverage. If all of these discussions were to be concluded, 96.1 percent of Canadian merchandise exports would be covered by FTAs.
It is important to note, however, that FTAs differ in terms of coverage of disciplines (chapters within the agreements), tariff reductions or elimination commitments, and measures regarding non-tariff barriers. For example, some of Canada's more recent FTAs go beyond "traditional" trade barriers to cover trade and labour, trade and environment, intellectual property and investment. This means that, when appropriate, Canada's existing FTAs may be modernized to provide improved or more comprehensive market access for Canadian businesses and support progressive trade.
The Upshot
The majority of Canadian exports are covered by FTAs, under which a range of Canadian goods benefit from the reduction or elimination of tariff and non-tariff barriers, such as quotas or technical barriers. In this context, CETA provides the potential to further diversify Canada's exports by facilitating access to the world's second largest market.
Learn more about Global Affairs Canada's Office of the Chief Economist.
Subscribe to: E-magazine and RSS Feed

Use #CanadExport
Date Modified: